We Offer IDX Property Search To All CREN MLS Members!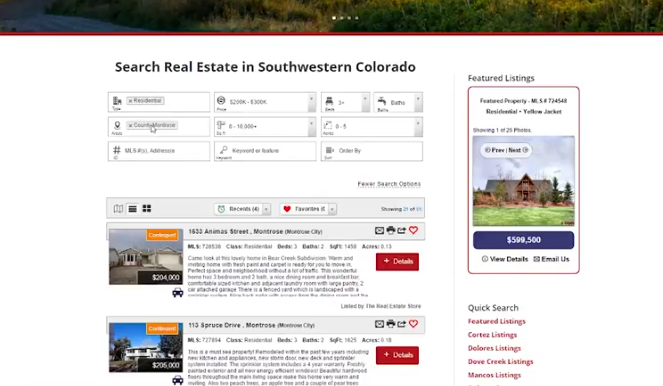 BPetersonDesign of Montrose, CO recently announced the release of the new service we are now offering to Real Estate Agents who are CREN MLS members — IDX Property Search. This IDX Search allows the public to search active listings available in your MLS directly from your website. This is very exciting for us because we used to only be able to offer 1 IDX Property Search option, which was a free version from ColoProperty, created by IRES-MLS. While the ColoProperty Search works for some, it cannot be customized so real estate agents were unable to display a page featuring just their own listings. Now when we build websites for CREN MLS members, we can integrate this IDX Property Search for an additional cost.
This customizable IDX Property Search we are now offering to all CREN MLS members not only offers some pretty wicked features including easy-to-identify icons and an easy way for the public to post properties from your agent website to their social media pages, but it also offers a way to automatically display your own listings that you add into the MLS within 24 hours.
IDX Property Searches Available
Customizable IDX Property Search
There is a $100 one-time setup fee plus a yearly or month-to-month fee. The price will depend on which package you choose. Contact us so we can email you the different packages and their prices.
ColoProperty Search
This IDX property search is free! We only charge to login the back end of your website and iframe the code once CREN MLS emails it to you. This what ColoProperty Search looks like and how it functions (click links below):
Standard. Example: http://www.coloproperty.com/framer/1346
Mountain. Example: http://www.coloproperty.com/framer/1309
Let's Get Started!
Contact Us to get started. If you already have a website, we will need to know your site URL. If you don't have a website yet, we can discuss building one!