Small Business Website Design & Packages
COLORADO AND ARIZONA BASED WEB DESIGN COMPANY SPECIALIZING IN SMALL BUSINESS WEBSITES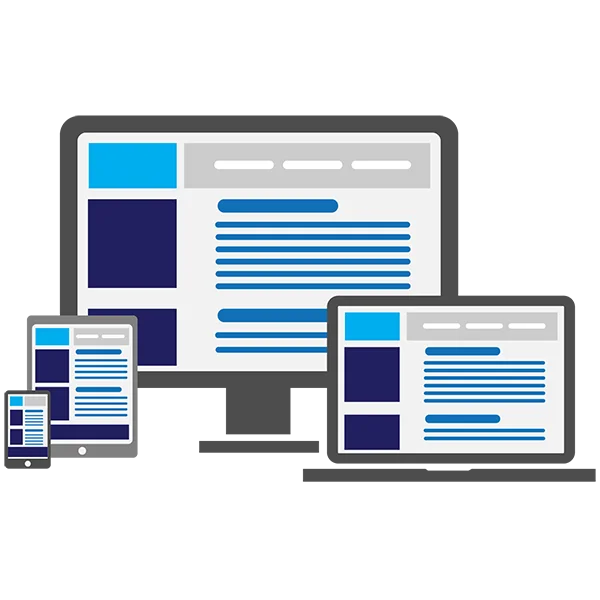 WordPress Websites & Custom Coded Websites
BPetersonDesign takes pride in developing functional and fully responsive website design for small businesses in WordPress Websites and Custom Coded Websites. We work closely with our business owner clients and remain strategic thinkers during the website design process to figure out what will represent your business and branding best. Your business website is most likely the first impression your customers have of your company. WordPress is the most common platform that most websites are being built on today. We bring a fully responsive design to your site, allowing your customers to view your website from their desktops, tablets, and phones.
Our custom coded websites eliminate the constraints of a WordPress template, giving us more flexibility in design, including a fully-functional mobile website. This is especially great for integrating a management system or custom shopping cart.
BPetersonDesign makes custom websites easy and interactive with our mock-ups you can view before it launches and your very own assigned Project Manager to communicate and worth with you along the way.
Web Hosting & Maintenance Packages Are Included
Along with web development and design, we also include domain hosting on our very own hand built, in-house servers and maintenance packages in our monthly packages. Any changes you send over to us will attentively get updated. No more waiting on your IT guy to get the changes done in a timely manner, and no more having to contact more than one company for your one website. Hosting your website with us allows you to bypass having to call a corporate office in who-knows-what country to open a ticket and having to try and talk "tech" with them. If there are any issues with your website, all you have to do is contact us and we will handle everything for you. But our Tech Department will probably know before you even do, and will already be working on it before you even know it's down!
Ready to make your next BIG move?
Schedule a free initial consultation below!
Responsive Designs
Our responsive website design is the name of the game. Your site will look great and it will function perfectly on all devices, which include phones, tablets, and desktops. This will make your website Google friendly… and customer friendly, too! How your website responds to different screen sizes is crucial for your web design. If customers are frustrated with your design because it doesn't respond to the device they are using, they will leave your website. This affects your bounce rate and leads to bad Google ranking.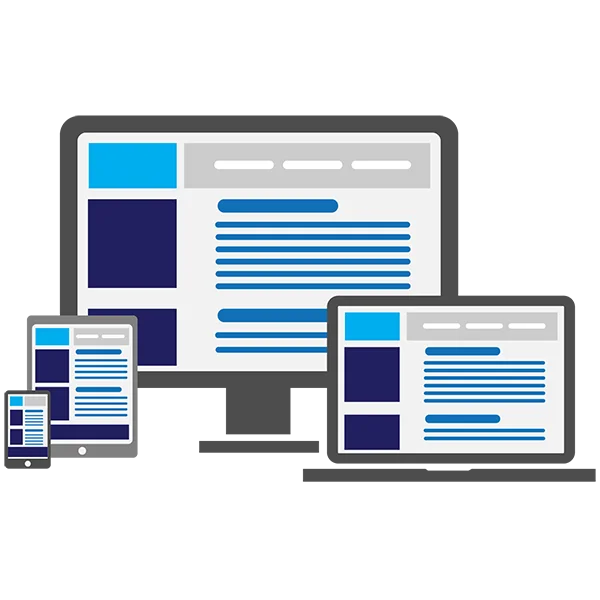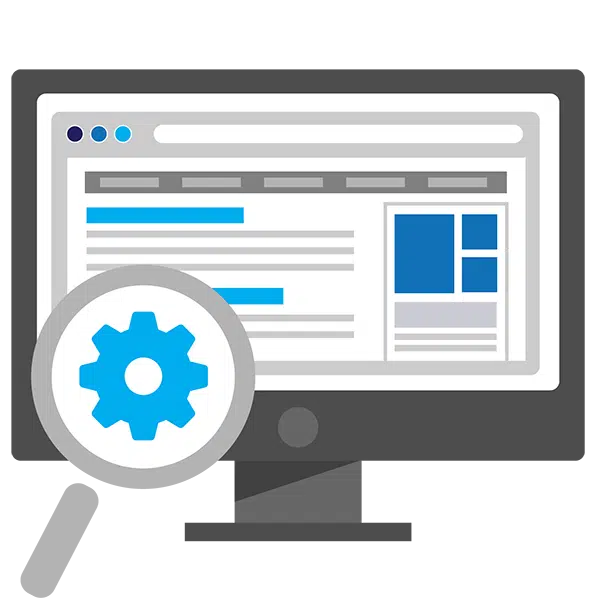 Search Engine Optimization (SEO)
SEO is more than just Google keywords and phrases. It's about the user experience as a whole. We'll help make sure your target audience will find your business website once it has launched. Choosing the best target phrases and having original and the most relevant content to reach your target audience is crucial for your website. While the content will come from you, our SEO Specialists will add in SEO-Rich content within the write-ups you send us. That is why working with our team will have maximum results when building your new web design.
Content Creation
Your assigned point-of-contact will work with you to make sure your website has the content it needs. You will be responsible for what pages you want on your website and the content to go on those pages. No one knows your company or business plan better than you. Our staff will be responsible for strategically putting together the website layout that best meets your goals.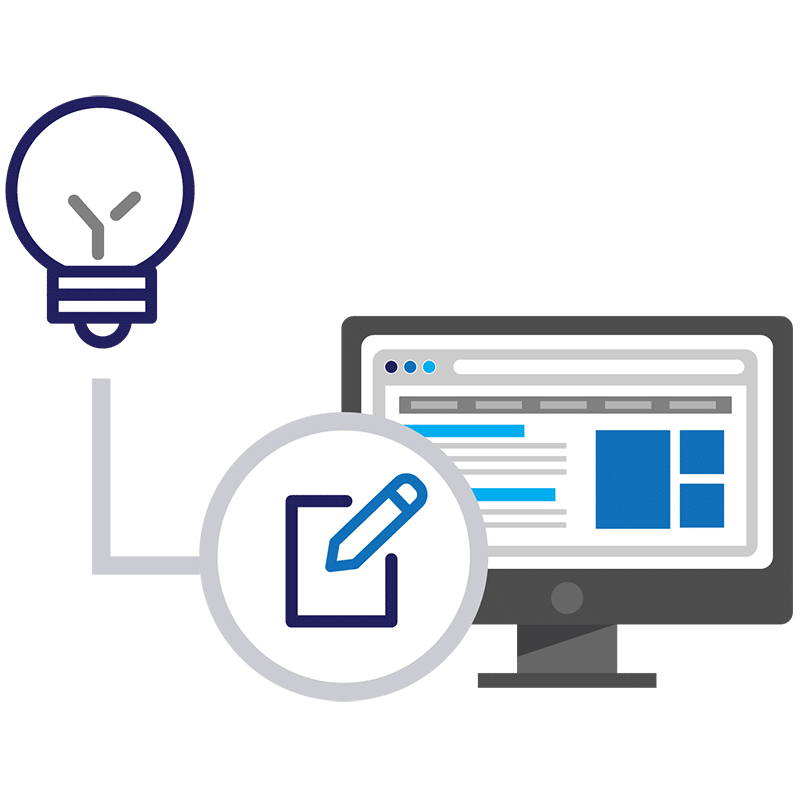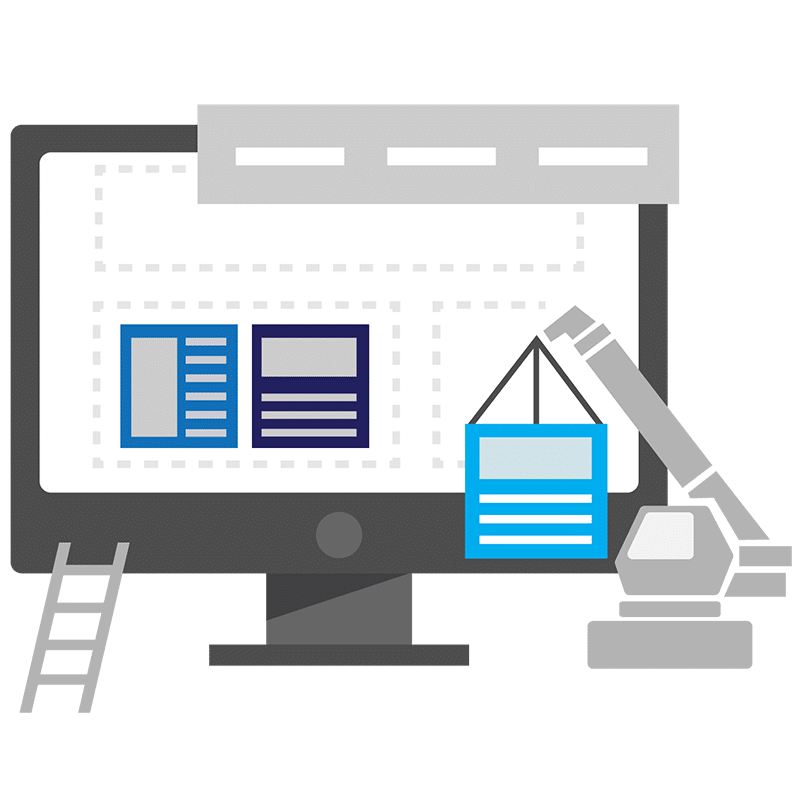 Monthly Updates
Our included Monthly Maintenance Package gives you the opportunity to improve your web design after it's launched. Making small updates to your website once it's live keeps it from looking stagnant, which is a negative to search engines. Keeping your website updated keeps your customers informed and your content evolving.
Website Analytics
Your new website will have Google Analytics, which will allow you to see who's interested in your business and will allow you to discover who is visiting your site and how they're engaging with it. The statistics don't lie! This will help to determine what updates should be made to your website and how you can better cater to your audience.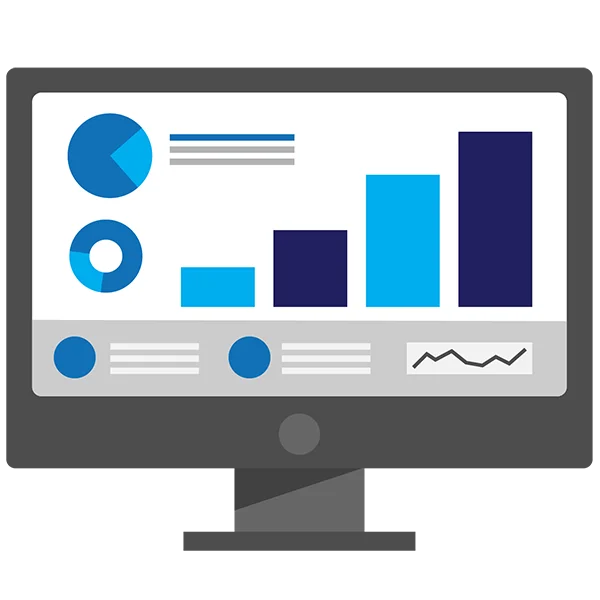 Frequently Asked Questions
Content
Your website content comes from you! It's important to do your due diligence when it comes to this part of the design process. In your website packet, we provide you guidelines and a checklist. The purpose for that is to get your business plan "on paper" and to help you think about certain areas of your business that never crossed your mind. You will be working with a point-of-contact to streamline the system so you're only working with 1 person from our team. We can also grab the content that's already up on your existing website. You can edit, add, or remove anything once your new business website is launched.
We understand that you may have more of a budget than you do time. In cases like this, we do have trained and qualified content creators on staff at an additional fee. However, we do request that someone in your company are available for questions and can still provide us with content that is requested from our team.
The pages you receive depends on which package you choose. Once you consult with our team and decide on what content will be displayed on your new website, we can then narrow down the total pages that will be displayed on your professional business website.
Domain and Hosting
Yes! BPetersonDesign recommends that you use your existing domain (this is best practice for SEO as well). We will need your credentials to your provider in order to transfer your site from your old hosting to our hosting.
Yes! It will be up to you to determine how many emails you want under your website domain.
We recommend replacing your existing site with your new business website so your content and placement doesn't conflict with each other. By keeping your old site up and running and launching a new website, the sites may have duplicate content which will be ignored by Google. Having duplicate content and multiple websites will diminish any efforts towards SEO and great ranking on search engines.
What We Need to Start Your Website:
Website Worksheet: BPetersonDesign will provide you a website worksheet. This will drive you to take time to think about what you are wanting out of this website, the audience you are wanting to target, and will help us crawl into your head. We use this worksheet as part of the foundation during the design process. This must be filled out and returned before we can start the design process.
Domain Hosting: Before we can setup your mock-up website, our company will need the credentials to login to your existing domain hosting company so we can transfer the domain onto our hosting platform. If you don't have a domain yet, then we request you let us know what you want it to be and we will purchase it ourselves so we can avoid the transfer process.
Logos/Other Graphics: High quality graphics in either .jpg or .png. We have an in-house graphic designer if you need new logos or custom graphics created. We recommend your logo has a transparent background.
Sitemap: A clear outline of which pages will be included on your new site.
Content: To efficiently launch your website, BPetersonDesign will need a list of pages you want on your website with all the text content for your new website within two weeks.
Images: High quality images are crucial to a beautiful site. If you don't have your own high quality pictures, we will use high quality stock photos.