Looking to learn more about school and child care websites? Let's take a closer look at their industries and how we've assisted some of our clients!
A Look into the Industries
The education and child care industries are as important as they are big. Child care in particular has become such a large industry in recent years and is expected to continue growing. This is due to the increased number of working parents and subsequent demand for child care. Both industries involve meeting many needs, including organizing activities and outings, providing intellectual stimulation, disciplining, and sometimes transportation. And as with many industries, the use of technology, websites, and marketing is becoming increasingly crucial.
The Struggles
As user-friendly websites and digital marketing become more and more vital for businesses, those without either in the education and child care industries may struggle.
For both industries, having a professional website can help a school or childcare business survive and thrive in a competitive industry. A good website allows a school or child care business to position itself as searchable, legitimate, and accessible to enroll in. Without a professional website, schools or daycares could look untrustworthy, be inaccessible, or not even show up when potential customers go searching online. And in this digital age, more than 80% of consumers research a business online before they make a buying decision. You don't want to miss out on potential customers with a crummy website.
Not having a marketing strategy can also be a big mistake. Without a strategy, a school or child care business's growth will slow, and could even stall. A well-planned, timely social ad campaign or consistent, professional social media posts can help consistently gain enrollment or daycare sign-ups.
Our Clients
Let's take a look at some of our own clients. Here's how we assisted them with their school and child care websites and marketing.
Vista Charter School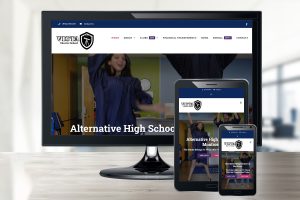 Vista Charter School has been a client of ours for many years. When they first came to us, they were already an established organization but had a few goals they were looking to accomplish. Their goals were to enroll as many students as possible and to establish an online presence and top-of-mind awareness. Not many people in their area knew this charter high school even existed, so creating awareness was important. They also had the opportunity to use a free school website template, but because of its cookie-cutter design, it would never perform well.
To have effective marketing, we needed to build them a website that would not only rank on the Google search engine but could easily allow students to enroll online and access their blog for updates. As a charter school, it was also necessary that we displayed their meeting minutes and financials in a timely fashion.
Once the website was completed, we began running a monthly social campaign for them as well as managing their school's Facebook page. Being able to respond quickly to comments and messages has put them back on Facebook's algorithm, and today, they now enroll hundreds of high school students.
Facebook marketing has gone a long way in pushing even more awareness and conversions for Vista Charter School. While targeting the right demographic has been challenging due to the removal of specific interests and audience behaviors, our digital marketing specialists continue to reach student-aged teens who are interested in receiving a high school diploma as well as parents and grandparents who are interested in enrolling their children.
Redeemer Lutheran School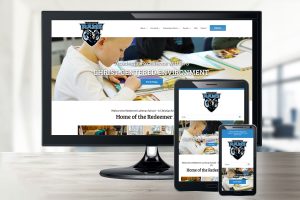 Unlike Vista Charter School, Redeemer Lutheran School was a brand new organization. While they already had a preschool, they were in the exciting growth transition of starting an elementary school.
Being a brand new organization means we have to start from ground zero. This means growth takes much longer as Google has to establish you are a genuine organization that will be staying around. Because of this, their growth was much slower than Vista Charter Schools was.
We created the website to target parents and to easily allow them to access the required forms online, as well as enroll their children. They also jumped on the same marketing package as Vista Charter School. So we took over managing their brand new Facebook page, as well as running a monthly social campaign.
While Redeemer Lutheran School and Vista Charter School are in the same industry, the approach to Redeemer Lutheran School's Facebook targeting was a little different. As this is a private preschool and elementary school, we wanted to target parents with preschool and elementary-aged children who are interested in giving their children a private school education. This way, we hit the perfect demographic to help them boost awareness and gain enrollment.
Giggle and Grow Daycare & Preschool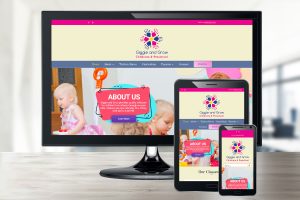 While Giggle & Grow are similar to Vista Charter School and has been an established facility, their situation was more like Redeemer Lutheran School because we were starting on a brand new domain name.
Unfortunately, this client had a negative experience with their last hosting company. Without going too much into the details, our team had to pull together all of our resources to create a new website for this client in a very short amount of time. Due to their internal processes, we were not able to create an online form for parents to be able to enroll their kids. So we allowed all of their forms to be listed out so parents can still fill them out, and then upload them through the website.
Today, we still host their website as well as their domain (so they won't have to worry about a negative experience again). We also include their SSL certificate to protect their users' information, monthly updates at no additional charge, host their emails at no additional charge, and our security and firewall will always make sure their site is protected.
Let BPetersonDesign Help You
If you're a school or daycare service that wants to grow, let BPD help you. We have experience in creating school and childcare websites, as well as implementing a marketing strategy that will help you get conversions. Websites, digital marketing, or social media ad campaigns – we are here to assist you and help you succeed!
We have been assisting small businesses with growth since 2008 and would love to help you out! We're located in Cave Creek, Arizona, and Montrose, Colorado, but serve nationwide.