We specialize in website design for plumbers, so when we get to launch a new website for one – we get super excited! When we launch a new website, people on the outside only see the final product. They don't get to see what all goes into the planning and strategizing side of it. It's a fascinating process – and if you are testing the waters for your own plumber website designer, then here's what you can expect when you hire BPetersonDesign as your small business website designer.
Initial Consult: Client Overview & Goals
Phillips Plumbing Solutions is currently a small family-owned and operated plumbing company in Queen Creek. Our communication was 100% virtual. They came to us because they are ready to start building an online presence for themselves, reach more potential customers, and add new technicians to their team every year – as well as add more plumbing vehicles to their fleet.
We are experienced in website design for plumbers, and we specialize in helping these types of service industries grow into a larger scale. They came to us with clear goals they want to accomplish as well as a budget they want to follow that allows for steady growth.
After our initial discovery consult with the owners, we were able to determine their need for a website with additional pages that support healthy Search Engine Optimization paired with Facebook Page Management for their business page as well as monthly blog articles would best fit their budget as well as meet their short term goals.
Completing Initial Steps
We quickly moved forward to the next stage, which involved the website development team. A project manager was assigned to them as their direct point-of-contact to streamline communication between them and the web development team. The project manager introduced themselves and send over a worksheet. As soon as we received back the completed worksheet, we compartmentalized each step and sent new ones to the client as they finished up the one before that. Doing it this way helps the BPD team get what we need while getting to know their plumbing company and services in more detail.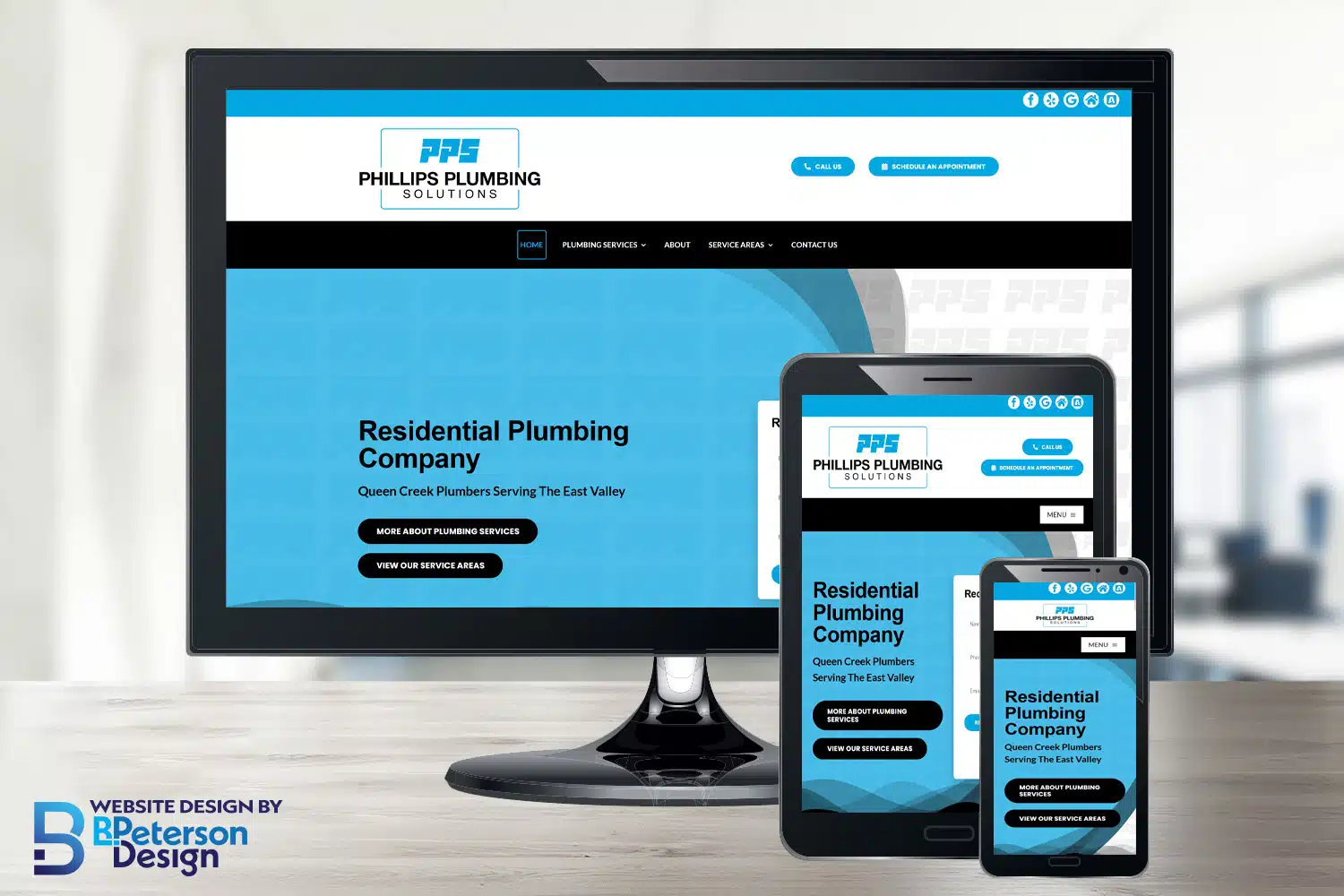 New Plumber Website Design Began
After all of the steps were completed, it took our website designers around 2 weeks to complete the new plumber website design. The project manager made sure the team stayed on track and that all things on the client's "wish list" were addressed. She also worked with our content creators, assigning them pages to complete and reviewing and adjusting as necessary. Staying on brand and meeting specific google search terms and phrases were a key focus in this project.
We scheduled a virtual meeting with the owners, presented their new design in the rollout phase. The website was approved and launched within 24 hours – which then executed the next stage in the process: Digital Marketing.
Plumber Marketing
Advertising for plumbers can be tricky, because it's a very competitive industry. It's important to get on at least one monthly Facebook Ad Campaign, but when you're first starting out it may fit in your plans better to get on a Facebook Page Management package instead. Our consultants will listen to your goals, your budget, and put you on the plumber marketing package that is best for you.
Adding a plumber blog to your website is an important piece to growing your website. Not only does it target a wider audience, it allows you to rank for a wider blanket of google search terms. Our SEO Content Creators follow the latest trending topics and the best keywords and phrases for your industry. They specialize in writing blog articles specifically to rank on Google.
We are Facebook Certified by Meta