We had the pleasure of working with Before the Door Landscapes (BTD Landscapes) for a new landscape design website. The owner was looking for a website designer in Anthem, AZ and came across our website design company. He keeps a busy schedule, so remaining flexible through the process was important for him. He filled out our contact form online and we were soon in contact with him. Here's what this project looked like:
Initial Consult: Client Overview & Goals
Before the Door Landscapes started in 2015 by retired Phoenix Firefighter, Scott Friedman. Like most starter companies, he started with a free website builder from weebly. While these are great free starter websites for someone starting out, they will not perform on search engines and are unlikely to convert any leads.
BTD Landscapes was ready for a professional website for his landscape contracting business. It was important that his website represented the quality of his work – so it was time to invest in a website design that would convert a higher end clientele that he works with.
Completing Initial Steps
BTD Landscapes decided to move forward with our company. He was assigned a project manager so he had a direct point-of-contact to work with that would streamline communication between BTD Landscapes and the BPetersonDesign web development team. The project manager introduced themselves and reviewed the completed website worksheet.
We researched the competition to familiarize ourselves with what he is up against, and also took time to research the industry and the services he offers. Our team went through his wish list and figured out how we would integrate it within his website. We then researched what Google Keywords and Phrases his clientele would search for on search engines – this way we knew what search terms his company should come up for.
BTD Landscapes gave us access to photos of completed projects. This way his website could display a truthful representation of his craftsmanship.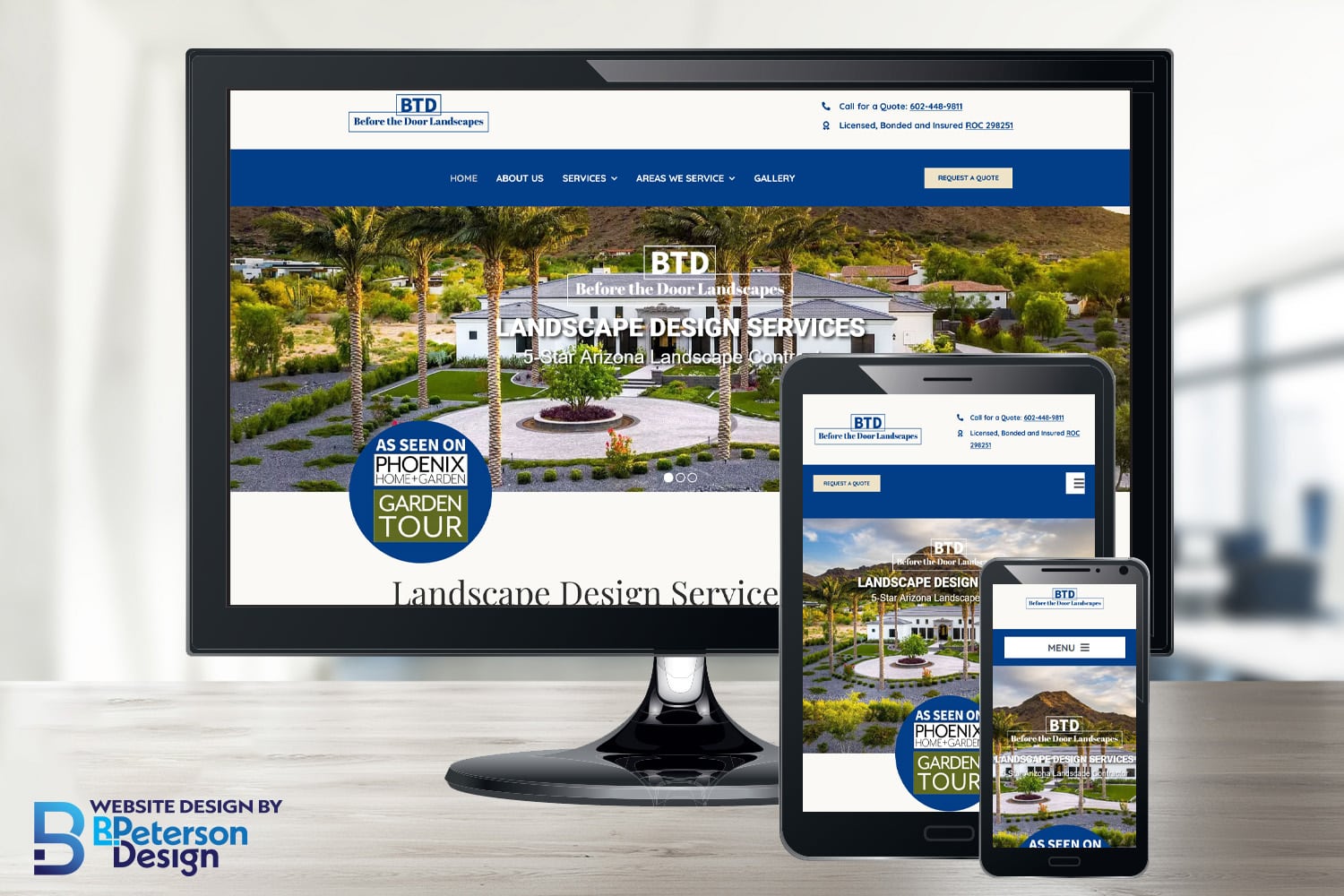 New Landscape Website Design Began
After BTD Landscapes completed all of the required steps, it took our website designers around 2 weeks to complete the best landscape website design for his company. The project manager made sure the team stayed on track and the strategy we put together was being utilized in the design. She also worked with our content creators, assigning them pages to complete and reviewing and adjusting as necessary. Staying on brand and meeting specific google search terms and phrases were a key focus in this project.
We scheduled an in-person meeting with the owner, but when scheduling wasn't coming together, we ended up emailing the new website for review. BTD Landscapes reviewed it over the weekend and we made his list of updates for our team to finalize. Once the updates were completed, the website was approved to launch!
Landscaper Marketing
Advertising for landscape contractors can be tricky, because it's a very competitive industry. It's important to get on at least one monthly Facebook Ad Campaign, but when you're first starting out it may fit in your plans better to get on a Facebook Page Management package instead. Our consultants will listen to your goals, your budget, and put you on the landscaper marketing package that is best for you.
Adding a blog to your website is an important piece to growing your website. Not only does it target a wider audience, it allows you to rank for a wider blanket of google search terms. Our SEO Content Creators follow the latest trending topics and the best keywords and phrases for your industry. They specialize in writing blog articles specifically to rank on Google.
We are Facebook Certified by Meta