Your company is unique, so invest in a marketing business that brands itself as innovative.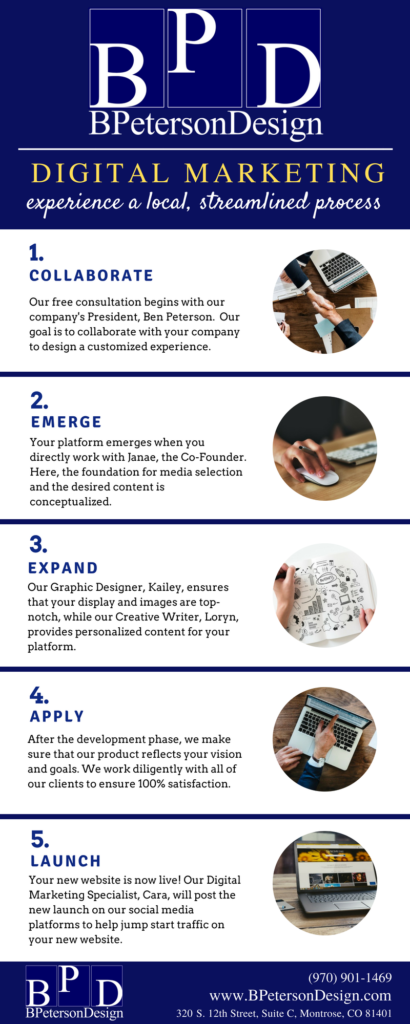 With us, the bar is set high.  When you compare us to the competition, you'll see the difference. Typically, other website companies provide "ready-made" templates.  As a result, nothing new is actually created, but rather, it's recycled.  Many online developers select this option because it's cheaper and faster.  BPetersonDesign goes against the grain by custom-building your online presence from the ground up.  Our new team and streamlined process allow us to consult with our clients one-to-one, making your digital advertising a personalized experience.  If you're serious about growing your business, read below for a breakdown of our streamlined process.
---
1. Collaborate
At BPetersonDesign, we treat you like family.  When you reach out to us, you work directly with one of our Project Managers. This initial meeting establishes your target audience and the intended outcomes of your online presence. Even though it's okay if you come empty-handed, it doesn't hurt to conduct research prior to your meeting with us.  We recommend brainstorming design features you like and begin bookmarking websites that you find visually appealing.  Knowing what features you like, and dislike helps expedite the design process. Our Project Managers consolidates this information and communicates with the rest of the team.  Furthermore, they will supervise each stage of the website and digital marketing process, ensuring that quality is present in each phase.
---
2. Emerge
Once the professional relationship has begun, the baton is handed to what will be your assigned point-of-contact.  Not only will you love working with your new assigned representative, you might find yourself stopping by the office just for a chat.  As a leading specialist in WordPress, our company builds the platform of your online presence from the concepts discussed with the Project Manager.  Moreover, we artfully blend together the personal and professional sides from each client.  This allows your website to represent you and your business. Even though you will have an assigned "master builder" for your website, it takes a full team to develop your online platform.  Someone once said, "Teamwork divides the task and multiplies the success."  In fact, if we were to put a tracer on your product, you would see it ping-pong digitally across the office.  And that's a good thing. When you have only one person designing and developing, the content and imagery can become stagnant.
---
3. Expand
Once your platform is established, we'll begin embellishing the product with tailor-made designs and custom-scripted content.  One of our Graphic Designers will be assigned any graphics you requested, which could include a new logo or marketing material. Again, very few digital marketing companies have a graphic designer that only performs graphic design.  Many times you'll find that companies overload their employees, and the content becomes watered down in order to save time and money.  Thankfully, that's not the case with BPetersonDesign.
Your online presence will have a top-notch appeal, and it will be well read.  One of our Content Creators will work with your point-of-content, to make sure we get the content we need to turn it into professional, SEO-friendly layouts. Our Creative Writers drafts the website content from the perspective of your business. Furthermore, if you select a package with a blog feature, one of our Digital Marketers will compose an informative blog with a creative angle.  The blog serves the purpose of gaining SEO (search engine optimization) points, and will eventually acquire more traffic to your site.  As we mentioned, every ember of our team does not work on an island.  Every member at BPetersonDesign works in collaboration with one another, and our clients.
---
4. Apply
Studies show that 65% of the population are visual learners.  Sometimes, it takes a visual demonstration of all of the pieces of your website to come together.  After your product has been drafted, designed, and developed, we'll directly send the prototype to you.  During this step, you'll have the opportunity to examine and provide constructive feedback with your assigned point-of-contact. Many people ask the question, "How long does it take to have my website completed?"  And the answer is–It depends.  Remember how it was suggested to come prepared for your consultation with Ben?  If the customer has the content prepared, we can roll out a new website, or an online platform, within as little as 2-4 weeks.  In other words, it pays to be prepared.  Once you've had the opportunity to peruse your new website, and you've given us the stamp of approval, the site is ready to go live.
---
5. Launch
Once your website is live, one of our Digital Marketing Specialists strategically markets your newly developed site like a digital herald.  In order to cast a wide net, our Marketing Specialist carefully drafts a 'grand reveal' on social media, in which they add specific terms and hashtags.  On average, this initial social media boost–featuring your site–can attract thousands of local views.  If you've selected one of our premium packages, one of our Digital Marketing Specialists will continue to compose regular social media posts with custom infographics.  Better yet, your personal digital marketer responds to any consumer questions on Facebook.  You may have read an earlier blog post from us, Facebook's News Feed Changes and Your Business.  The more interactions between your business and the consumer, the more traction your business receives.  Maintaining a social media presence can be time-consuming and stressful.  We will handle it all: We're like your personal social media receptionist.  Just like the rest of the BPetersonDesign team, this department works in harmony with the rest of the crew.  It should make you feel good that so many people work together for a common goal: Your business.
---
Unity exists when all of the elements work together.  Our digital marketing process reveals that each department works in unison to develop your online presence.  Essentially, your website and digital marketing platform is the sum of our parts.
At BPetersonDesign, we take pride in the work we produce.  Pick up the phone today and experience the difference.