Many small businesses believe that once they have a website and a social media account, they are officially "advertising," but in reality, they have only reached the tip of the iceberg. Continuous – but effective – advertising should be a way of life within your company. Let us tell you why.
It's easy to let advertising take the back seat when it comes to running a business, but do you think that's what McDonald's or Chevrolet does? If you think they are so well known that advertising doesn't matter, think again. Huge companies have entire departments dedicated to the enigma called "marketing & advertising" and the good news is that even though you may not be as big as McDonald's or Chevy, hiring BPetersonDesign will be like having your very own marketing & advertising department.
Pay-per-click (PPC) is a form of digital marketing where the advertiser pays for clicks on an ad. With PPC you only pay when people interact with your ad. This also narrows down the types of people looking for your type of business or service. Those interested will click your ad which then directs them to your website and ultimately to your cash register.
Display Advertising
Also referred to as banner ads – is a form of pay-per-click advertising that puts your company right in front of someone's face. It is common to see display ads when reading online articles, checking your email, or watching a video – especially after visiting a business' website. What is also amazing about display advertising is that we have the skills to accurately target consumers (specifically through Google Ads and Bing Ads) that are actively searching for your specific product or service. There is an actual rhyme or reason behind these advertising campaigns. We at BPD ask that you trust us to let display advertising work for you.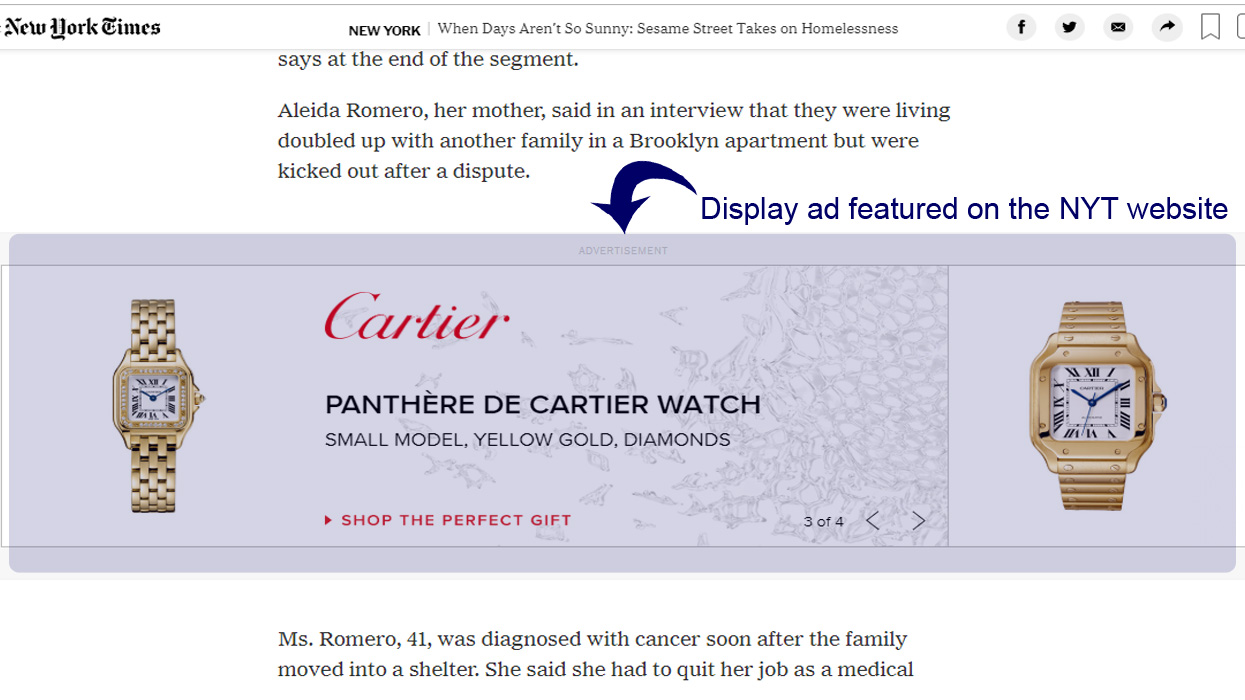 When marketing using display advertising it's important to remember a few key things:
1. Focus on your target audience. Using the shotgun approach is not typically very effective. When you know the type of client you're aiming for, we will find them – in a systematic way.
2. Your banner ads should feature a simple, yet attention-grabbing design. This tip is important because your ad will most likely be surrounded by other graphics on the page the user is visiting. Avoid lengthy text; say what is only necessary.
3. Include a call to action. Good examples include "Get a Quote now," "Join Free for a Month!" or "Like us on Facebook."
4. Make sure your landing page has the same look and feel as the display ad to reflect continuity within your company.
5. Optimize your PPC campaigns for mobile devices. Nothing says poor advertising like an ad that doesn't function well on mobile devices. This is crucial since people overwhelmingly use their phones for checking emails, reading blogs, and engaging with social media.
6. Give your PPC campaign time to work, but don't let it become stagnant. You might expect overnight results, and that isn't always the case. Give your Google and Bing ads time to work.
7. Make sure your site is equipped to support the required tracking codes. This is something we most certainly will help you with.
Display Advertising doesn't have to be a mystery or something you should shy away from – it is effective and almost always worth the investment. When you're trying to stand out from your competition, this is a powerful way to do it.
If you're new to digital advertising, here's a crash-course on words or acronyms you may come across:
Common Digital Advertising Terms and Acronyms
A/B Split Testing – When you run two similar ads at the same time to see which one runs better
Above the fold – The content on a website that is viewable before a user has to scroll
B2B – Business to business
B2C – Business to consumer
Bounce Rate – When a user visits your site and only views one page (different definition when it comes to emails)
CPA – Cost-per-acquisition
CPC – Cost per click
CPI – Cost-per-impression
CPM – Cost-per-thousand impressions (you'll sometimes see this translated as cost-per-mille)
CTA – Call to action
CTR – Click through rate
Engagement Rate – How many users are interacting with your brand
Hashtag – Today, this symbol (#) is most commonly associated with words and movements and is a great way to track what is currently trending (e.g. #tacos)
KPI – Key performance indicator
Landing Page – A web page that a user "lands on" when clicking a link
Lead Generation – How your business generates leads
Lead Magnet – A tool that helps your business capture potential clients (e.g. a giveaway)
Lead Nurturing – How you turn a potential client into an actual customer via emails or retargeting
Organic Listings – Search engine results that come up naturally after a search (not paid for)
PA – Page authority
PPC – Pay-per-click
Remarketing – A tactic used to lure customers who were on your site at one time, back to your site
ROI – Return on investment
RSS – Really simple syndication, allows users to access content from various outlets in one central location
SEM – Search engine marketing
SEO – Search engine optimization
SERP – Search engine results page
Tag – Keywords that help categorize content by subject
Ownership & Understanding
We don't take over your Google Ads account, even if we create one for you. You will always own the account, so if you choose to leave, you take your account with you.
Further, you will have continuous access to your Google Ads account and can personally see how your campaigns are performing. Our relationship with you is genuine and we and have nothing to hide. If you have questions about your campaigns, we have answers. BPD is here for you to translate and explain your statistics as needed.
When you decide it's a good move to utilize PPC advertising for your company (it really is a smart business decision), make sure you have a few questions answered before your appointment:
1. What is your goal? Do you want more calls, more in store customers, more visitors to your website?
2. Who are you trying to target? New customers? Repeat customers?
3. What is your advertising budget?
BPetersonDesign offers Standard and Premier PPC Packages using Google Ads and Bing Ads platforms. Our customer service remains five-star no matter which package you choose. We want to see your business succeed! Call us to get started on your very own PPC advertising campaign at 970-901-1469.